Salt!
"Its secret is time. Ours is patience: the gift that makes every human creation pure harmony, pure beauty." Grandpa adored Balzac.
SNAPSHOT
Some occasions are worth the wait. The time it takes to meticulously set the table. To let the risotto rest with butter. To savour, one after the other, all the spices of a dish. And, then, to make a toast. The One you can't forget.
Awards
IINTERNATIONAL WINE CHALLENGE 2022 - SILVER
DECANTER WORLD WINE AWARDS 2022 - SILVER
WINE CITY "SPARKLING WINE FORUM"

2021 -

GOLD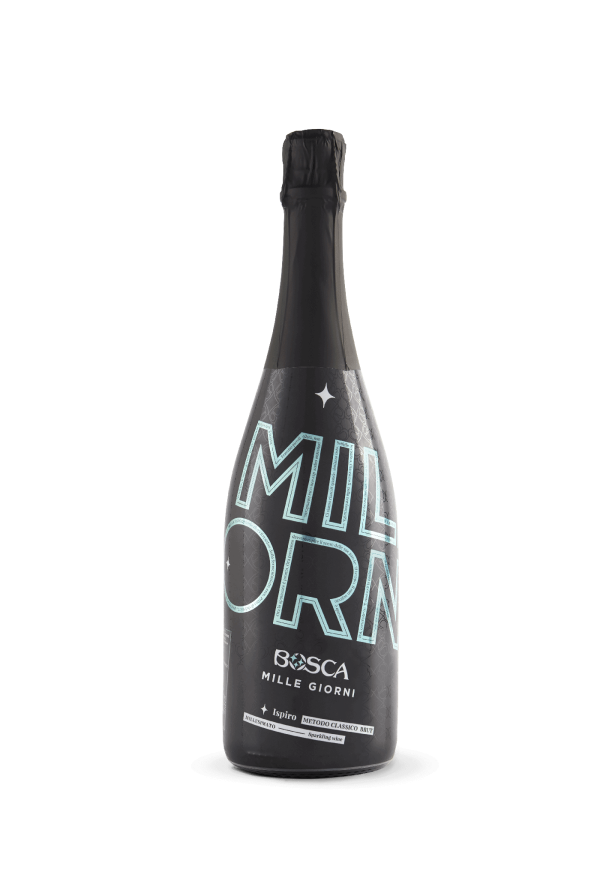 Mille Giorni Ispiro
€19,50 VAT included.
Traditional Method Brut Millesimato from Pinot and Chardonnay Grapes
(Repeat) A thousand times. (Make) A thousand wishes. (Answer) A thousand thanks. (Travel) A thousand miles. (Dream) A thousand... and one nights. The number one thousand (Mille) can tell endless stories. Including the story of Bosca. Mille Giorni, one thousand days. This is the time it takes for the wine to age. Thus, becoming a great sparkling wine.
NB: Available online only in Italy
Technical Data Sheet
Reviews
Technical Data Sheet
Product

Mille Giorni Ispiro

Typology

Quality sparkling wine traditional method brut, vintage 2015

Grape Variety

Pinot 80% - Chardonnay 20%
---
Production Area

Italy

Format

75cl

ALCOHOL CONTENT

12% vol.

Serving temperature

8-10 °C
---
Colour

Intense straw yellow with golden highlights and fine and persistent perlage

Scents

Intense, fresh fruity (apple and white peach), floral (acacia) and ethereal notes alternate with more complex and oxidised notes of dried fruit and candied fruit, and yeast, giving complexity and harmony.

Taste

Excellent structure and alcohol content, enveloping, dry, with perfectly balanced acidity
Reviews