20%
At the end of the 1990s, Luigiterzo invented a revolutionary cap: it can be screwed back on and keeps the fragrance intact for days. On the market it is known as Multistap, the stopper that makes a pouf.
INSTANT
Almost a year has gone by. You can feel it, it's coming back. It's the hot season! Sun baths, beach parties, aperitifs at sunset and dinners with friends. It's almost here. This is how it could begin: a ta-ble overlooking the town square, a glass of Anguria Sparkletini, the dim light of a late afternoon. The first warm embrace of a new summer.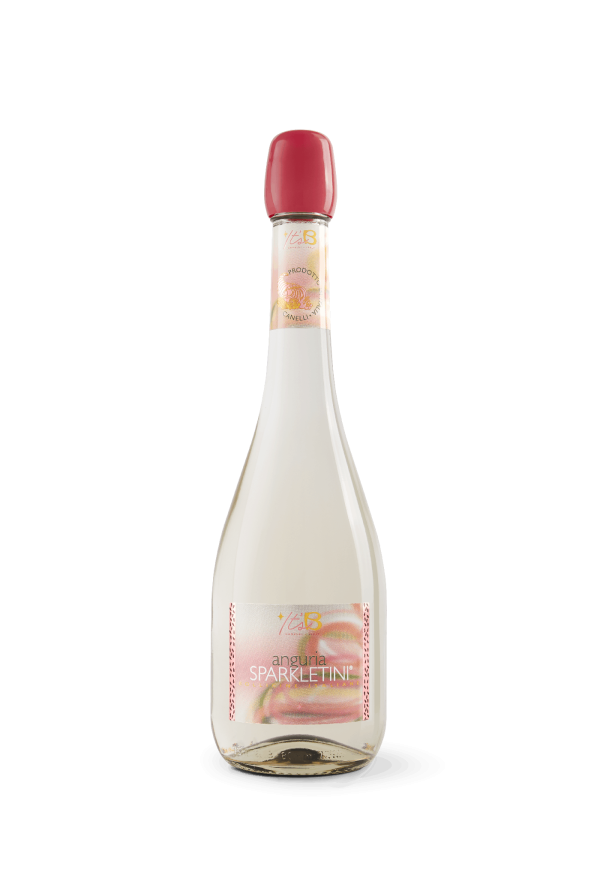 Sparkletini Watermelon
€5,50 VAT included.  VAT included.-20% Through Nov. 29
Watermelon-flavoured low-alcohol sparkling drink
[Temporarily out of stock].
Its flesh can be red, yellow, orange and even white. Its shape can be elongated or round, huge or mini. Whatever the colour and shape, its juicy, sweet and refreshing taste brings only one thing to mind: summertime! Finally. This is the perfect season for Anguria Sparkletini, the sparkling drink made from cereals and wine.
NB: Available online only in Italy
Technical Data Sheet
Reviews
Technical Data Sheet
Product

Sparkletini Watermelon

Typology

Alcoholic drink

Main ingredients

Cereals, wine and watermelon scents natural flavours, no coloring added
---
Format

75cl

ALCOHOL CONTENT

5% vol.

Serving temperature

6-8 °C
---
Colour

Light rosé

Scents

Fruity

Taste

Fresh and delicate, the sour note attenuates the sweetness of the ripe fruit without altering the taste
Reviews
€

5,50 VAT included.  VAT included.

Through Nov. 29

€

5,50 VAT included.  VAT included.

Through Nov. 29

€

6,50 VAT included.  VAT included.

Through Nov. 29
€

8,50 VAT included.  VAT included.

Through Nov. 29
€

27,00 VAT included.  VAT included.

Through Nov. 29
€

27,00 VAT included.  VAT included.

Through Nov. 29

€

6,50 VAT included.  VAT included.

Through Nov. 29

€

25,00 VAT included.  VAT included.

Through Nov. 29